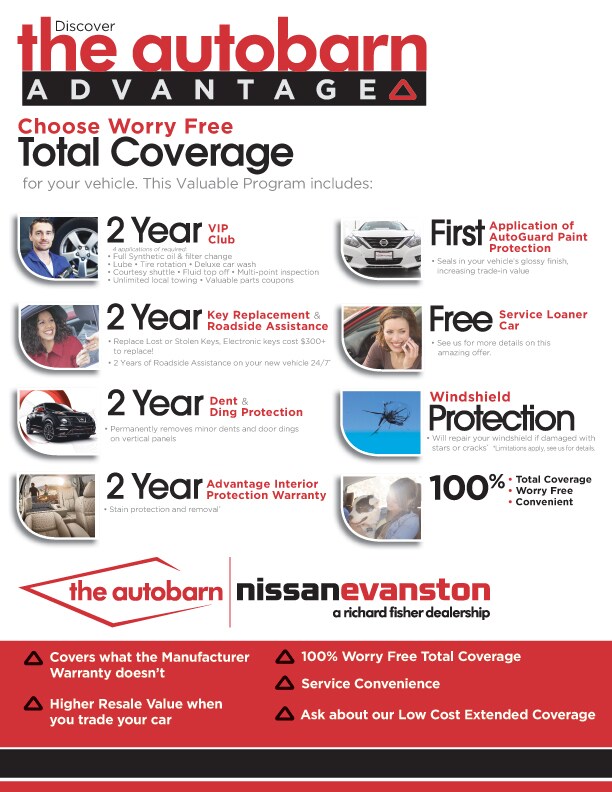 You want your car to always be operating at peak performance, and so do we. When you purchase The Autobarn Advantage with your new car, you receive the following:
2 Year VIP Oil Change Plan
Join the club and receive 4 applications of Nissan required products; full oil and filter service, lube, tire rotation, deluxe car wash, courtesy shuttle service, fluid top off and multi point inspection.  In addition, club members will receive unlimited towing within 50 miles of the store and 3 coupons for 25% off cabin or air filters and 20% off any accessories purchased from the parts department.
2 Years Key Replacement & Roadside Assistance 
Key replacement costs range from $200 - $400 for a single key. That is because each key includes computer chips necessary for today's hi-tech vehicles. The Autobarn will replace any lost or stolen keys up to $400 per year for 2 years. For your safety and convenience you will receive 2 years of roadside assistance with the purchase of your new vehicle. This roadside assistance is nationwide and available 24/7 and 365 days a year. 
2 Years Dent & Ding Protection 
It is almost impossible to prevent your new car from eventually having a minor dent or ding. With The Autobarn's PDR Travel program you are ultimately protected from occasional dents and dings. Using special tools and techniques developed by auto manufacturing teams, technicians are able to permanently remove door dings and minor dents from the vertical panels of your vehicle. The process is seamless and will not harm a vehicle's factory finish. A single claim will pay for the cost of this protection. 
2 Years Autobarn Advantage Interior Protection 
The Autobarn Advantage Interior Protection not only assures a perfect looking interior, it includes a 2 year, lifetime-renewable warranty against most stains and helps prevent any leather from cracking or fading. If a stain occurs simply bring your vehicle back to The Autobarn and it will be repaired at no cost. 
First Application AutoGuard Paint Protection 
This exterior paint treatment effectively seals your vehicle's finish, locking out the ravages of UV rays that can dull the glossy finish of your vehicle, as well as acid rain, tree sap, bird droppings, manu­facturing fallout, road salt, and other airborne particles that can harm the exterior of your vehicle. It provides continuous protection and a lasting luster that redeems the cost many times over when it comes time to trade. 
Free Service Loaner Car 
While your car is under warranty and the repair requires the car to stay in our service department overnight you will always be able to receive a loaner car to drive - no questions asked. Your loaner car must be set up with your salesperson.
*Subject to change. See dealer for complete details and pricing.